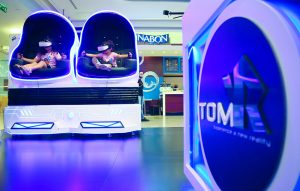 ABOUT US
TOM VR is a leading Virtual reality company. We provide Vr gaming machine, Vr education and entertainment services.
Actually we are present in City Centre Beirut and City Mall (dora).
Having opened Lebanon's first virtual reality arcade in the summer of 2017, we had a very successful year providing fun for people of all ages.
Our mission
Our mission is to make it possible for businesses to deploy and take full advantage of emerging Virtual Reality and Augmented Reality solutions.
VR is not to attempt to replicate the real world, but to build a human experience which would be absolutely impossible in the physical world.
Our Vision
The advent of a new technology as profound as Virtual Reality demands entirely new ways of entertainment. We see VR has the power to merge gaming, education and entertainment into a visceral experience, never before possible, and in the process engage the minds of players into a more creative future.
Our Values
We succeed only when our clients benefit from our work. We deliver excellence with the highest standards of integrity. We honor the dignity and value of individuals working as a team. We embrace change and encourage innovation. We seek to grow through learning and knowledge gathering.
Virtually Tour a Product Floor
The immersiveness of virtual reality is what makes it a truly unique experience and one that can instantly wow your attendees. Imagine going to a brewer's festival. Wouldn't it be cool to actually experience the brewing process? To understand how your favorite beverage is made?  That's where virtual reality comes in.
Virtual Reality
To put it simply, virtual reality transports you into a completely different world using technology to recreate a real-life setting. A VR experience involves multiple devices, such as headgear, gloves, olfactory devices, that are necessary to create a multi-sensory experience, designed to truly immerse the viewer in the new reality.